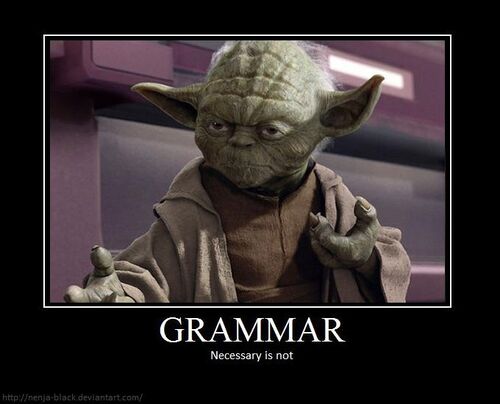 Or is it?
Okay, so let's start with one of the oldest topics about language learning - grammar!
I have been following a few ELT (English Language Teaching) blogs recently. I have to admit it, I'm quite a
geek
- I love it!
Anyway, on one of the blogs, a very experienced teacher was talking about grammar, grammar rules and if they are necessary or not. (
Click here to see his post.
)
Now recently I have been thinking about how grammar is taught and if my students really benefited from "learning grammar".
Now for some people, they like to have the rules because they feel more comfortable and it gives them something to study and memorize. But for other people, learning the rules about the use of the present perfect (
how many different uses are there - about a million, no?
) doesn't help them to actually USE the present perfect in their English conversations.
I would suggest this -
Learning English Grammar is like learning how to use a keyboard. If you learn how a keyboard works, do you know how to use the computer and its operating system?
I'm don't think I completely agree with this idea. But I want to generate some discussion so I'm going to give an opinion for you to agree or disagree with. AND, my opinions aren't important here - yours are!
Thanks,
Gordon
P.S. The www.englishpage.com link that I've added about the rules of present perfect are NOT complete and, as with all things in English, there are exceptions to these rules. I added it to show a 'perfect' example (hehehe, English teacher humour) of lots of different rules.